In this section...
Rainbow Lolly Sticks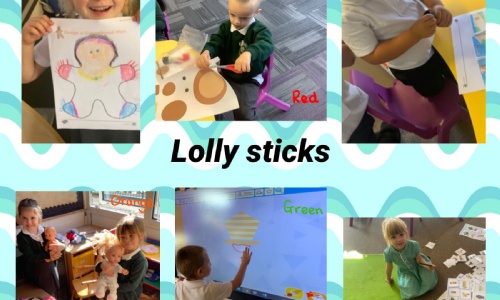 The Rainbow Lolly Stick System!
I am sure your children have been coming home talking about the lolly sticks they have made and that you have seen the Tapestry photos of your child making a green stick for example. We thought that for our first blog of the year we would explain this for you.
During the children's child initiated time we ask that they make lolly sticks. Each coloured lolly stick is assigned to an area of learning. This ensures that the children engage in all of the activities and areas of learning.

Yellow is literacy - in the photo you can see Harry sequencing the story of the Gingerbread Man.
Blue is maths - in the photo you can see Freya matching the pictures from the story of Goldilocks and the Three Bears.
Purple is a creative activity - Amberley designed a super Gingerbread Man.
Red is a physical activity - you can see Robbie cutting out a bear.
Green is technology - Mason is completing a shape game on the computer.
Orange is role play - you can see Eden and Emilia looking after the babies (they have to earn a ticket to play in the role play area so we usually sneak a bit of writing in too!)
The children collect the different sticks and need to make one of each before they can repeat an activity, thus making a rainbow 🌈 and earning dojo (house) points.
They have settled into this system brilliantly and we are very proud of them all!