In this section...
Gingerbread Men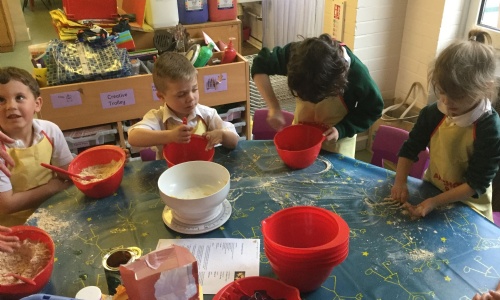 Shopping, baking and eating!
This week the reception children have focused on Fairy Stories, in particular the Gingerbread Man. On Tuesday 6 children went to the Co-op to buy the ingredients with Mrs Wicks and Mrs Hammal. The same afternoon 6 more children prepared the dough. All of the children then rolled out their dough and cut out their shape.
On Wednesday the children decorated their Gingerbread Men, ready to eat today. However, when they arrived at school the Gingerbread Men had vanished leaving only a few crumbs. They decided to write a letter to Mrs Sandberg to find out if she knew anything. She did not, although she had found a note in her office suggesting they might be hidden in a locker.
Further investigations took us to a hungry Miss Galloway's locker where she was caught red handed! The children later enjoyed their Gingerbread Men for snack time.
Have a look at the rest of the photos in the Early Years Gallery.