In this section...
The Really Wild Show!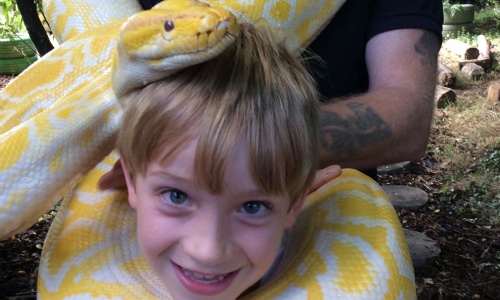 Petholics - Classroom make overs and lights, camera, action!
It is hard to believe that we have completed our first experience, and what an experience it has been. The children have been excited, intrigued and some even slightly scared by the visit of our cold-blooded friends. The children showed great bravery and maturity when stroking and holding the animals, most definitely more bravery than some teachers. The children have then applied their knowledge gained from the visit to write from the perspective of their chosen animal. The children have demonstrated an amazing independence in adapting their classrooms into a chosen habitat, as well as teaching and testing each other through their own online quizzes. This week, the children took charge of their journey to stardom in writing, filming and editing their own mini movie. I am sure you will agree that creativity, knowledge and bravery shone through in every child. It was a dream to see the children tugging at you all in enthusiasm for their film debut. Thank you so much for joining us!
We cannot wait to reveal the next experience to the children!
We would like to take this opportunity to ask you for your help. Every year the parents that volunteer to hear children read are invaluable, and we would like to ask for this generosity again. If you are available to volunteer some time to hear the children read across the year group, please contact your child's class teacher at the end of the day or via a note. We would like to stress that you may not be able to hear your own child read on your visits. Thank you in advance!
Mrs Black, Miss Wood and Mr Wellstead