In this section...
Do they know it's Christmas...has hit the airwaves!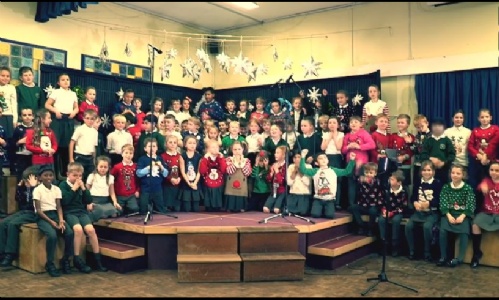 It's been all about the sound waves in 3/4 over the last few weeks, as we tackle learning about sound and how it is made, as well as making our own Christmas single and editing the tracks.
Children have been learning about vibrations, pitch, volume and soundwaves throughout this experience. They had to put this all together by writing an information text about 'Sound!' The pieces of writing were incredible and highlighted just how much knowledge the children had grasped over lots of practical work. Finding a letter from 'Heart Radio,' led the children to create their own soundwaves, whilst creating a version of 'Do they know its Christmas?' in the battle for Christmas Number 1. As well as having lots of fun learning the words and recording both the sound track and music video, the children were able to see soundwaves and how they varied with different volumes and pitch. They all got an opportunity to edit the soundwaves, by using a programme called Audacity. Having finished their editing, children learnt how to burn their own CDs as well as designing and producing their own album to maximise sales at the BGPS Music Store. Who will be Christmas number 1?...stay tuned to find out!