In this section...
Commission from King Ethelred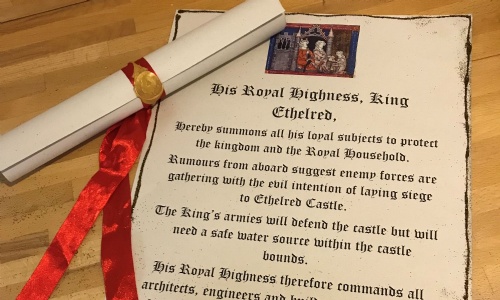 King's missive is delivered to all Year 5 /6 classrooms...
Yesterday, with much ceremony and ringing of bells, the King's knights presented scrolls to his loyal subjects in Years 5 and 6. After breaking the golden seals, the King's servants were aghast to discover that the possibility of enemy invasion was imminent and preparations were urgent. It is most distressing to consider that the King's castle, so peacefully situated in the environs of Royal Borough Green, could be soon under siege. However, the King's royal architects, engineers and builders, the greatest minds in the kingdom, are collaborating to design and construct the finest well ever beheld. This well will ensure that the King and his army can continue to defend the kingdom from behind the castle walls.
The King commands his subjects to not submit to fear: Royal Borough Green will be defended and the reign of King Ethelred will continue for many decades, if not millennia. God save the King!