In this section...
Your Home Learning - Highwaymen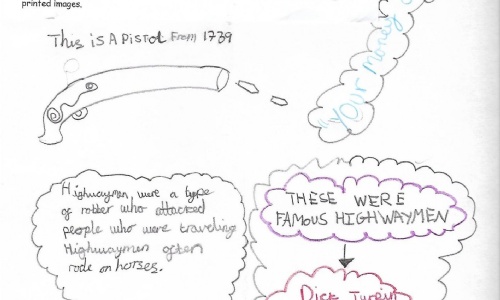 Last week you were all busy researching highwaymen and we thought it would be fun to share what you've found out. We're all missing each other (teachers included!) and would benefit from staying in contact and learning from each other like we do in class.
Maisie has sent us photographs of her Home Learning Journal - thank you, Maisie - and what she has discovered about highwaymen. Did you also find out that some women were famous for their highway robberies too? We loved Maisie's presentation which made her work look inviting and attractive; how did you present your work? Were you able to make a link between our recent work on the railways and the end of the reign of terror of the highwaymen?
Send us your photographs; if you email them to the school office the teachers will receive them and then share them on our blog.
Mrs Martin has nearly finished The Highland Falcon Thief - how are you getting on? She's really enjoying the way that there are clues in both the written text and the illustrations. She's on Chapter 22 and thinks that Hal may be on the wrong track with his suspect but is not at all sure who else could be the villain... If you have time you could visit MG Leonard's website https://www.mgleonard.com/
What are you reading? Send us your book reviews.