In this section...
You've been busy!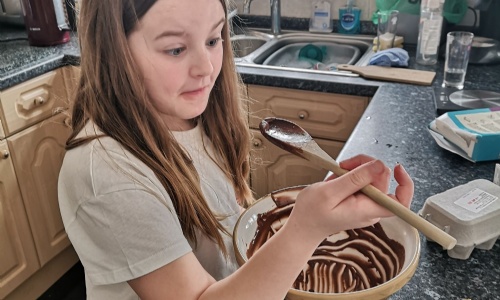 We're receiving your photographs of what you're up to and your work and it's making us SO HAPPY because all your teachers and friends miss you.
Below are some more photographs of work from Joshua, Eloise and Alfie. We're really enjoying how unique your home learning journals are and the fascinating facts you have discovered. Alfie's book review (see below) is a great recommendation - A Monster Calls - quite a tear-jerker, this one, but a brilliant read and full of amazing imagery and insight; well done Alfie for completing such a challenging read. Eloise - what were you baking? - something chocolatey? - well done for refining your baking skills! Joshua, what a lot of research has gone into your highwaymen work - hope you enjoyed it and we can't wait to see what you've discovered about the Spanish architect Gaudi; we love your beaver's lodge - who knew beavers were actually engineers as well as architects and builders!
A Monster Calls Book Review
This book is about a boy who struggles with the consequences of his mother's illness.

Conor's mother has been in hospital for 7 weeks fighting cancer. Every night at 7 minutes past midnight a yew tree monster appears by his bedroom window. Every night the monster tells a new story about himself and his past. A girl in Conor's school found out about his mother and told the whole school. Everyday, 3 bullies called Harry, Sully and Anton hurt him secretly because of his mum. In the middle of a school day, Conor's grandmother picked him up from school to see his mum in hospital. That night in his nightmare, the monster leads Conor to the edge of a cliff with his mother on the other side of the cliff. A huge monster appears from the middle of the cliff and grabs his mother. Conor tries to hold on but the monster is too strong and Conor has to let go. To get his mother back the tree forces Conor to say that he could have held on to his mother, but he couldn't. Conor was really scared to say it but he had to in order get his mother back. If he did say it the tree would heal his mother but if he didn't, it would let her suffer. Conor says that he could've held onto her but he let go even though he was trying his hardest. The next day his mother was in hospital holding Conor's hand, taking medicine...
We don't know whether she survived, it makes the reader wonder.

The book made me feel a bit sad but I enjoyed it. It is especially sad because the idea of the book came from Siobhan Dowd, who died of cancer before she had a chance to write it.