In this section...
SF Said's Visit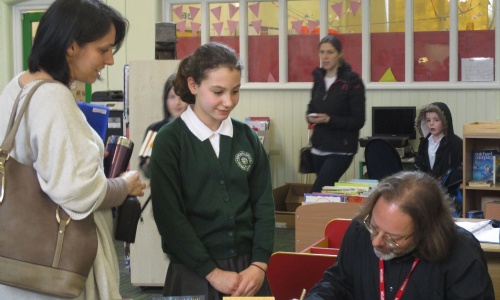 1 pet cat, 17 re-drafts and 90 rejections
Mrs Martin: Meeting one of your heroes is a nerve-racking business and so I awoke this morning feeling both excited and nervous: Would SF be as I imagined after enjoying his books so much? Would the children feel as excited as I did? Would they ask sensible questions? But I needn't have worried: once again Borough Green children made me feel extremely proud and our visitors could not speak highly enough of their politeness, attention, enthusiasm for reading and general behaviour.
And what about SF? Was he as we expected him to be? He was delightful! This morning he had been in his local library writing and re-drafting his current book, "Tyger" as he always is from 9 am every morning. He had continued writing on the train here from London. And yet he was obviously delighted to be here talking to us and listening to what we had to say about reading his books.
We were amazed to hear that writing for a living is such hard work. SF's first few books were rejected 90 times: the 91st publisher agreed to publish "Varjak Paw"... but only after 17 re-drafts! Interestingly some our favourite characters such as Tam and Sally Bones weren't even in the early drafts. SF encouraged us to go for our dreams but to expect it to be hard work and to take some time. As Mrs Black said, green pen editing in our writing is good practice for all of us, especially if we'd like to write books or articles for newspapers and magazines.
I was so impressed by the range of questions our pupils asked: such thoughtful, intelligent and relevant questions about SF's inspiration, work, characters and dreams. And SF asked us questions too: what were our favourite books? Who were our favourite characters? What were our dreams? He told us that, when he was a child, books were hugely important to him. When his mother gave him "Watership Down" he didn't think he would be able to read 500 pages but he did and it inpsired him to write a book at least as half as good - hence 17 drafts of "Varjak Paw".
One of the many things I love about our children at BGPS is the way they make me think about things in new ways. I asked Maple Class about their first impressions of SF this afternoon. They said they were fascinated to hear his voice, they had been wondering what he would sound like. Isn't it true, that when you read a book you 'hear' the author's voice in your head as you read it, especially if it is written in the third person with an impersonal narrator. And that is why this afternoon was such a treat: to meet the voice who told us the story, to shake the hand that wrote the words on the page, to listen to the man who loved his pet cat so much he turned him into a hero in an adventure... It has been a privilege to meet one of my heroes and to not be disappointed in the slightest. Tonight I will continue to read "Phoenix" and I hope you are enjoying the books your parents so generously bought for you.