In this section...
Author visit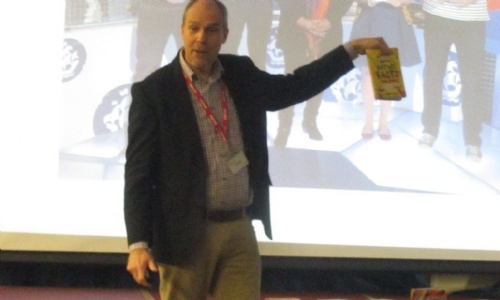 Andy Seed, winner of a Blue Peter award for non-fiction in 2015, came today to entertain us with poetry, jokes and funny facts.
But his visit wasn't just entertaining – no – it was both informative and inspiring too; Andy told us about the challenges and rewards of being an author and the process of having a book published. Being fascinated by the natural world, many of Andy's books are about animals and he taught us some new and strange names of animals as well as some interesting details about their behaviour. Andy also loves poetry, in particular the rhythm of poems, and we found that we could quickly learn and perform poems like professionals: ask us about Cheeky Pete and Who's a cat? One of the many amusing moments was when Andy challenged Year 3 and 4 to try tongue twisters – how many times can you say "Irish wrist watch" without getting in a muddle! Another moment never to be forgotten was Year 6 Charlie's outstanding victory in the Alphabet Conversation Challenge – a rare victory among the many failed attempts on Andy's visits to other schools all around the country, and even world.
Andy himself had a fantastic day at our school commenting:
"The children were excellent throughout: responsive, enthusiastic and knowledgeable, so a great compliment to all of the staff. There was a long queue for signed books at the end so lots of children will be reading this week!"
Thank you to all the parents who queued for so long to buy a book and to Mrs Sandberg and Mrs Galloway who made this possible.
Today was an excellent start to Book Week which continues on Monday with a special assembly and a surprise guest. Don't forget dressing up on Thursday which is World Book Day; please don't feel pressure to buy expensive costumes – it is meant to be a celebration of our love of reading and costumes can be simple. The World Book Day website has ideas for dressing up.