In this section...
Strange developments with the Egg....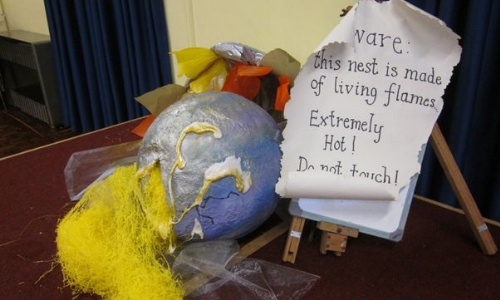 This morning Mrs Martin fought her way through the snow to the Hall to check on our mysterious visitor.....
– a rather large, metallic purple egg. On Monday morning, the egg had been snug in its nest; by yesterday it had rolled out of the nest and a crack had appeared near the top. Today, while we were tucked up in bed dreaming of snow, our egg cracked further – now it has a hole from which a slimy substance has emerged: trickles of white and gold goo are now running down the sides of our beautiful egg. Mrs Martin inspected as closely as she dared wondering if at any moment a small claw or set of teeth or glowing eyeball might appear; however, it is very difficult to actually see what is inside the egg. In view of this mystery, and the potential danger of the inhabitant of the egg which may or may not be a baby dragon, Mrs Martin advises us to observe from a safe distance today.