In this section...
Kent Teacher Of The Year Awards 2019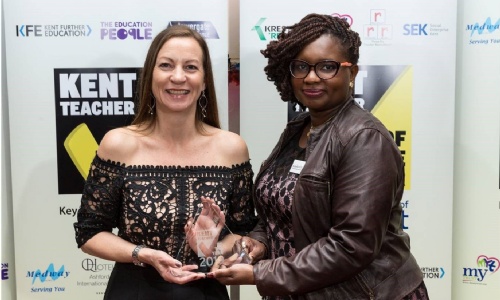 On the 10th May 2019 the top fifty educators, support staff and volunteers in further education and schools were revealed at the Kent Teacher of the Year Awards..
A staggering 1,100 nominations were submitted by students, parents, and school staff praising colleagues for categories including primary, secondary, further education and volunteer awards. Our very own Michelle Fleming, Chair of the PTA, was nominated, short-listed and invited to this prestigious event hosted by the KM Charity Team.
Michelle was awarded Regional Volunteer of the Year and later in the evening awarded Overall Kent Schools Volunteer of the Year! A real achievement with only 22 countywide champions out of the 1,100 nominations! What an achievement and a well-deserved one for both Michelle and the amazing team that form our PTA.