In this section...
Hedgehog Awareness Week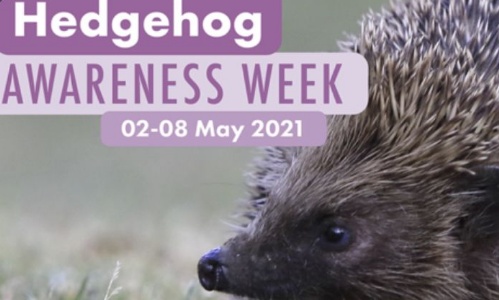 This week is Hedgehog Awareness Week
Dear parents and carers,
This week is Hedgehog Awareness Week, with the aim of raising the profile of Britain's cutest (and only) spiny mammal. This year, people are being asked to help protect the future of these prickly poppets by creating their very own hedgehog havens – our gardens are a stronghold for hedgehogs, and we can make their lives so much easier with very little effort.
There are many things we can all do to help hedgehogs; here are just a few:
· Make sure hedgehogs can access your garden with a 'Hedgehog Highway' a 5" x 5" (13 x 13cm) square gap in the bottom of fences or walls should do it! Once created you can log these on the BIG Hedgehog Map at www.bighedgehogmap.org
· Create a log pile that will offer shelter and natural food.
· Build a Hedgehog Home (see plans at www.britishhedgehogs.org.uk/hedgehog-homes).
· Move piles of rubbish to a new site on the day you are burning it and check it carefully before setting light to it, lighting from only one side so that there's an escape route should you have missed anything (or one!)
· Check areas carefully before mowing or strimming.
· Ensure netting (for example, football nets or gardening nets) is kept at a height that allows hedgehogs to pass safely under it as they can get trapped and injured.
· Check compost heaps carefully before digging the fork in.
· Stop using pesticides and poisons.
· Cover drains or deep holes.
· Ensure there is an easy route out of ponds & pools, in case of unexpected fall ins.

Additional tips can be found on the charity's website or social media accounts using #hedgehogweek, where there are also competitions to win hedgehoggy prizes. Visit http://www.britishhedgehogs.org.uk​ for more information.

If you do create a hedgehog haven in your garden this weekend, please do send us a photo as we would love to see.

Warm regards,

Mrs Quantick (Science Lead) and Mr Wheatley (Forest School Lead)