In this section...
Extreme Weather Warning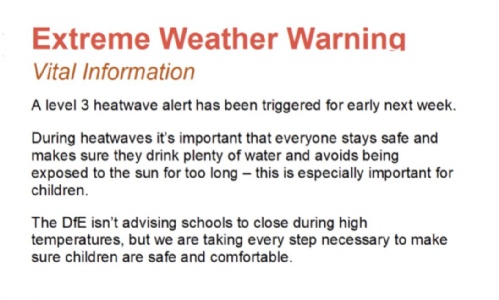 Vital Information
A level 3 heatwave alert has been triggered for early next week.
During heatwaves it's important that everyone stays safe and makes sure they drink plenty of water and avoids being exposed to the sun for too long – this is especially important for children.
The DfE isn't advising schools to close during high temperatures, but we are taking every step necessary to make sure children are safe and comfortable.
Precautions in Place
Children will not be taking part in vigorous physical activity including football etc. during break times
Children will be encouraged to stay in the shade as much as possible
Children can have their shirts untucked (this got a round of applause in assembly – small things!)
Suncream should be applied
Chilled water available to all children to refill bottles with each class stopping regularly to all drink water
Windows will be opened very early in the morning to allow the cooler air in. Openings will be slightly reduced when the outdoor air becomes warmer than the air indoors
Blinds will be used whilst maintaining air flow