In this section...
Olive the School Dog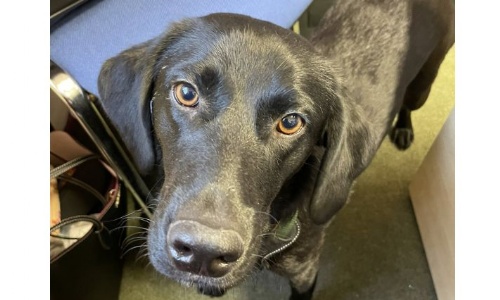 Olive the school dog has joined our team!
Olive is Mr Wheatley's family dog and she has been chosen because of her good nature – particularly around children. Olive is just under 2 years old and is a black Labrador X. She is smaller than a regular Labrador and loves walks, fuss and cuddles.
This decision has been made following the success of the reading dog Archie and therapy dog Yogi who have visited the school, extensive research and discussions with other schools that have a School Dog. The following policies and procedures are in place: School Dog Policy, Risk Assessment, Rationale, and Guidance for interacting with Olive. This information will soon be available on the school website. Below is a picture of Olive.
The benefits of a school dog
School dogs have been proven to help develop children's reading skills, improve behaviour, attendance and academic confidence, as well as increasing children's understanding of responsibility and develop empathy and nurturing skills. At Borough Green we hope that a dog will be a beneficial addition to the therapeutic offer, and adding to the interventions and support we already offer in school to promote engagement and wellbeing for pupils and staff.
Animal assisted therapy can:
Teach empathy and appropriate interpersonal skills;
Help individuals develop social skills;
Be soothing and support the development of rapport between staff and pupils and improve individual's skills to pick up social cues imperative to human relationships;
Help support emotional regulation through the positive impact on the autonomic nervous system;
A recent report highlighted children working with therapy dogs experienced increased motivation for learning, resulting in improved outcomes. Also, therapy dogs can be used to support children with social and emotional learning needs, which in turn can assist with literacy development.
Research into the effects of therapy dogs in schools is showing a range of benefits including:
Increase in school attendance;
Gains in confidence;
Decreasing learner anxiety behaviours resulting in improved learning outcomes, such as increases in reading and writing levels.
Positive changes towards learning and improved motivation.
Enhanced relationships with peers and teachers due to experiencing trust and unconditional positive regard from a therapy dog. This in turn helps pupils learn how to express their feelings and enter more trusting relationships.
When Olive is moving around the school she will be on a lead and always with an adult. We hope she will be able to support children in school in areas such as Forest School, reading, nurture groups, with attendance and wellbeing for both children, staff and parents.
While we understand that this will be very exciting for many of our children, we also know that there are some who may be nervous around dogs. Therefore, Olive will not go near children who maybe fearful of dogs unless you specifically ask us, over a period of time, to support your child to overcome their fear through gradually approaching, handling and interacting with Olive to enable them to slowly gain confidence in managing their fear.
During Friday assembly, the children will be given some information about how to interact with Olive in school so that we can start to introduce her gradually to the school day. The key message will be to completely ignore Olive unless the adult holding her lead invites them to approach her. This will be the same rule for all adults, this way, Olive will quickly become a natural feature of our school.
If you have any individual questions or queries, please do not hesitate to speak to me.
It is planned that Olive will begin her visits and training session in school from Monday 6th February 2023.
Yours sincerely
Mrs Sandberg
Headteacher, Borough Green Primary School