In this section...
Borough Green and the Isle of Wight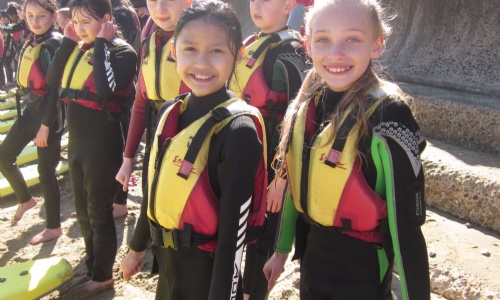 It has been a Borough Green Primary School tradition for over 30 years that our Year 6 children visit the Isle of Wight during Year 6. This trip creates life long memories and this year has been no exception. Parents were invited to join us on our trip by reading the daily blog detailing what we had experienced each day.
Once back from the Isle of Wight, Year 6 were asked to write a diary about their trip. I think to read it from a child's perspective shows the enjoyment that our children get from our trip. To view more about our week and to see our photos, please visit - http://boroughgreenisleofwight.blogspot.co.uk .
Sunday 10th April 2016
I am going to the Isle of Wight tomorrow. I am excited and not excited at the same time. I am excited because I don't have to tidy my room for a week; but on the other hand I am anxious about the long journey ahead. This is going to be the longest time I have ever been away from home without my family...my emotions are changing all the time – I don't really know how I feel. For the past couple of days I have had mixed emotions, as if someone is controlling my feelings. I am packed and I have checked and double checked my suitcase. I am all set and ready to go!
Ella Wilson, Acacia
Monday 11th April
In the morning I woke up at 6.30am, as we had to get to school at 7.45am. My mum and I are going to say goodbye at school so we went together to school. I was really nervous, I wondered how everyone else felt. At school, mum waved my off. I promised Ella that we would stick together. I was excited for the Queen Elizabeth Country Park because I was the only one who had ever been there before. Ella and I had lots of fun on the coach
On the ferry we ate our packed lunches – the ferry was huge. The coach journey was about half an hour but when did get to the YMCA, we were all excited. We were told our room numbers - ours was the biggest and everyone else was jealous. We then went to the coach and drove to Brading Roman Villa – the remains of a genuine Roman Villa. Dinner was fab – pasta bolognese and after that we had a twilight walk to the beach. Later, we changed into our PJs and went down to the dining room for hot chocolate and cookies. I thought to myself - a perfect end to a great day.
Annie Biggs, Acacia
Tuesday 12th April
This morning I woke up at 7.00am. What?! I usually wake up at 8.00am so I was still half-asleep. We had breakfast at 8.30am and had a choice of waffles and sausages or copious amount of cereal. Without any time to waste we were on the coach again on our way to Amazon World, which was full of strange and mysterious noises from weird animals that we don't get in Kent. The most popular animals were the sloth and penguins which were in the hot sun – bathing on 'Toga Beach' (their own private beach).
After Amazon World, we made our way to Carisbrooke Castle which involved me dressing up as a round head and George dressing up as King Charles (it was his birthday!) and Ben dressing up as a slave.
Bradley Davies, Oak
Wednesday 13th April
It's finally the day that I must face my fear…the sea! I know we have Dinosaur Isle beforehand but I'll be waiting – delaying the inevitable – with a tight knot in my chest. However, Dinosaur Isle calmed me down. It was really fun and interesting; one of the workers passes around loads of fossils.
At last, it was time. We put on our swimming costumes underneath our normal clothes. We all came together and trooped outside, down the steps to the promenade, as we marched down the zig-zagging path, my legs felt like lead and if became increasingly harder to put one foot in front of the other. The salty tang of the ocean stung my nostrils and my tongue; the waves not only crashed onto the sand by also onto my ear drums! In no time at all we were lined up listening to the rules. After that we changed into our swimming costumes and lined up to get our wetsuits.
Professional reef divers struggle with sharks – as beginners we struggles with wet suits! After a few minutes we'd all got into a wet-suit and were all wearing a buoyancy aid so the instructors took us down to the beach and showed us the kayaks. We split into four teams and had a relay race.
Finally, we all lined up with our surfboards and in our pairs ran along them, and jumped off the end. After watching several pairs crawl and sprint their way along; it was mine and Santi's turn. As the countdown began a surge of adrenaline and excitement washed over me like a wave. I jumped onto the first board and ran as fast as I could. Three boards remained when disaster struck – I face planted! Laughing, I got up and jumped off the end. I was tired; I was cold; I was wet! Three words could describe today – BEST DAY EVER. I felt awesome.
James Booth, Acacia
Thursday 14th April
After our big cooked breakfast we headed to our only activity during the day, Osborne House - Queen Victoria's holiday home. The view we had when we arrived at Osborne House was jaw dropping – every part of the outside screamed RICH. We entered the house and into a room devoted to information about the Royal family. We looked around the magnificent building and then the beautifully kept gardens. We stopped for lunch at the beach, had ice-cream and then visited Swiss Cottage where the children of Queen Victoria learnt to cook and garden like normal children. We then walked to the bus and headed back to Winchester House where we had the best burgers ever for tea.
Then to the disco which went way past my expectations. The dance moves were a mixture of shameful and funky and most importantly the company was entertaining and fun.
Friday 15th April
Today has been quite emotional. Even though we have woken up at 7.00pm every day, everyone seemed more tired than any other days at breakfast. Maybe it was that everyone had drained their energy at the disco. So we visited the famous Waltzing Waters this morning – it was amazing, I loved it – something I had never experienced before.
Now I had to face the dragon in the eye…we were leaving the Isle of Wight. Finally after a 3 hour journey, we arrived at Borough Green Station (by this point, I was desperate to see my mum). Later that evening, when I sat at home sipping my perfect cup of tea I thought back to the wonderful memories that I have got from our visit to the Isle of Wight.
Laura Flory, Oak