In this section...
New Recruits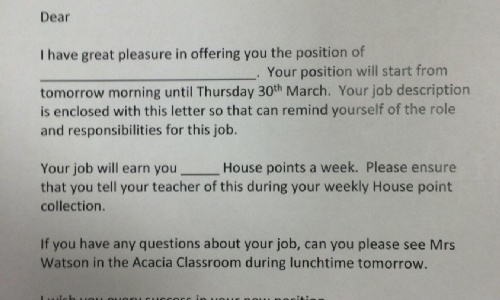 Our New Recruits for Terms 3 and 4
We are delighted to announce the names of the successful applicants who have been recruited to our BGPS jobs for the New Year. All our applicants had to fill in an application form to be considered for the positions and are paid on a weekly basis with House Points. Each new recruit has been given a letter today offering them their post position, along with their 'wage' and job description.
They are in 'contract' from tomorrow morning until until Thursday 30th March. They are also aware that if they do not fulfil the responsibilities, the job will be re-advertised and someone new will be offered to apply for the positions.
School Register Monitors
Daniel and Chloe

House Point Collectors
Oliver, Simeon, Matthew, Liam

Play Leaders
Amelie, Mia, Christielea and Ella-Mai

Milk Monitors
Ryan, Harrie, Ben and Daniella

Site Supporters
Maddie and Jessie

Assembly Co-ordinators
Nathan and Abdul