In this section...
Author visit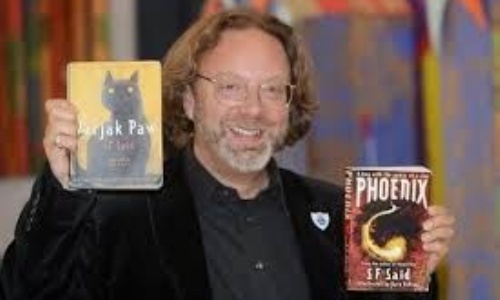 S F Said, author of the Varjak Paw books, is coming to BGPS on Thursday 23 March 2017.
Maple Class have finished reading "Varjak Paw" and we've been writing letters to the author.
We LOVE this book: its characters feel like friends and its settings like places we have visited from the Contessa's house where cats are pampered to the streets of the city where food is scarce and gangs roam…
Read Chloe's fantastic letter:
Dear S F Said,
I have truly been inspired by your style of writing in your books "Varjak Paw". Our class have just finished reading about Varjak and his amazing adventures. We have had many discussions about the choices of wording you have used; sometimes they could lead into interesting worksheets about what we have discussed, everyone enjoyed them.
One of our many discussions was about the way you used a capital letter for the word Outside. Not long after, we said that it was because it was like a new land for Varjak's family. The Contessa's house is home to Varjak's family however on the outside awaits a pure storm of golden danger. The danger of the Outside is a threat compared to the innocence of the precious Contessa's house.
My favourite part was when Varjak found out that the cars weren't dogs. I liked it because I see Holly as a formal character: no laughing, no hugging, no kissing and so on, but in this chapter Holly was laughing. That told me that she could have fun if she really wanted to.
I also think that Tam and Holly are opposites: Holy is independent whereas Tam likes working in groups. I would like to know if you purposely did this, if so what effect would you like it to have.
Thank you for taking the time to read this letter, I really enjoyed writing it! I am hoping to read "The Outlaw Varjak Paw" soon.
Yours sincerely,
Chloe